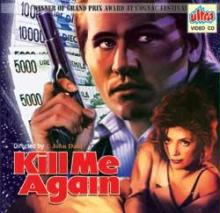 Academically, film noir's dark, tangled roots as an art form sprout from the crushing insularly realized despair of the soul. Durable and perhaps everlasting as a kind of thorough examination of the fallen, its psychology expressively at one with the poeticism with which its ambivalently lurid tales of spiritual corruption and moral decay are rendered. It was in no small measure born out of the alienation and paranoia of a time period singed by the indignities of greater urbanism and anonymity—the suppression of the individual in the squalid sea of prodigiously peopled centers of drudgery. And yet the timbre of film noir did not die out; numerous directors have endeavored to take up the mantle of noir, to pay homage to the filmic works of the past while attempting to contribute modifications—often in the name of updating—to the classic template. It is with great hope when allowing "neo-noir" a chance to radiate in its own right that the substantial viscosity of this most trenchantly oneiric cinematic expression is not lost through epochal transfiguration.
Perhaps best distilled, particularly for the purposes of exploring John Dahl's 1989 entry, Kill Me Again, the perfect definition of film noir is that it resonantly reminds of real life: men go after money for women, while women go after men for money. Dahl's picture begins with a voluptuous seductress named Fay Forrester (Joanne Whalley-Kilmer, who was married to costar Val Kilmer at the time) who manipulates one man—a psychotic killer named Vince Miller (Michael Madsen in the kind of brutish and violent role for which he became well-known)—so she can find a new host to parasitically exhaust. What helps to distinguish this rewarming of noir staples is the subtext Dahl and his fellow screenwriter David W. Warfield do not merely whip up empty-vessel figurations in lieu of characters but rather deliver articles of welcome depth. The pacing of these character beat offerings allows the ninety-five minute film to find an intriguingly uncommon rhythm.
As the tale of crime, lust and betrayal commences, Fay and Vince are in Winnemucca, Nevada. They have been eyeing some easy money, and are now ripping off an outlet of the Nevada mob, rubbing out at least one gangster in the process. The amount stolen is nearly nine hundred thousand dollars. Vince realizes that the two should stay away from population centers. After a brief verbal and physical tussle over the woman's desire to go to Las Vegas, Vince finds himself prey to Fay's burning desire to live glamorously. After telling her that they can hide out together in Idaho at a rest stop off the freeway, he suffers a terrible blow to the back of the head. Fay has picked up a rock used as a restroom doorstop as her weapon, and in a bit of Freudian literalism has left her boyfriend holding his sexual organ in his hand as he is disabled by the immoral woman.
Val Kilmer plays Reno private investigator Jack Andrews. His wife having died months before the story begins in a freak car accident for which he blames himself (he swerved off the road when a deer appears on it out of nowhere), Jack is a broken shell of a man. He has recently become the quarry of an organization of loan sharks after having failed to pay them back. In deep for ten thousand dollars, Jack suffers a series of punishments. Two ruffians have pierced the single mirage-like sanctuary of Jack's seedy, darkly lit office. After refusing to feign loyalty, Jack is pressed against his desk and his right pinkie finger is snapped in half by one of the men.

Later, as every viewer has doubtless guessed, Fay and Jack's paths cross. Dahl literally encircles and highlights the unjust randomness associated with the vicissitudes of noir, as Fay picks Jack out of a group of options under the term "Investigator" in the Reno phone book. When she enters his office, he is immediately taken with Fay's almost blindingly radiant beauty. She asks for him to "kill [her]," so that her boyfriend, who she states is "not right in the head," will not continually search for her. She is willing to pay ten thousand dollars for this operation to be undertaken (making it appear to everyone that she has been killed), half now, half when the job is finished. What makes the propositional scene sizzle, however, is the intensely sympathetic portal through which Dahl frames this would-be damsel in distress. After meeting reluctance with Jack, she tears up. Like the best femme fatales, she exhibits her most vulnerably feminine attributes, and entices the man's sense of chivalrous protectiveness. Thus having wily waxed weakly for his consumption, she is made all the more irresistible. Kilmer underplays the scene rather charmingly. His Jack knows he should not trust her, especially as he vocally notes that carrying five thousand dollars on her person is "a lot..." Nevertheless, he cannot fight off the temptation of saving a woman. Jack almost altogether succumbs to Fay at this exact moment, all the while half-convincing himself that he is accepting the task solely for the money.
In a perpetually gloaming dry Nevada desert as well as the streets of "The World's Biggest Little City," Reno, all atmospherically shot by Dahl and his cinematographer Jacques Steyn, the plot unfolds with a relaxedly confident integrity in the surfeit of noir touchstones. The score by William Olvis is vaguely reminiscent of suspenseful noirs and detective movies, signposting the winding road of the tale. The scene in which Jack "kills" Fay is one laced with steamy eroticism. The very act of the "murder" is sensually played with as a kind of sexual act. Fay taunts and teases Jack on a motel room bed, a shadow of Venetian blinds slicing through her gorgeous face as she giggly leads the private investigator along.
Connatural to the genre, events do not go entirely according to plan. Before he can piece together just who the betrayer and who is the betrayed, Jack finds himself interrogated by an imposing policeman. Recounting the downward spiral from which Jack is suffering in the wake of his wife's death—several petty crimes and a week-long stint in jail for protecting a client—summarized in a provocatively written monologue. "You used to be a normal, upstanding citizen," the policeman notes. It is this key description of the incremental transformation—the procession of the "normal, upstanding citizen," the dupe of the noir, the dupe of life itself, falling into the unforgiving pit of what would in a perfect world truly be considered the abnormal, compelled to cross one line after another. The web of illegality finally proves too strongly weaved for most noir protagonists.
Unfortunately, however, Kill Me Again fails on the rather fundamental score of following through with its premise to the conclusion. The denouement is a withered, dissipated puddle of problematically prosaic cinematic choices, and finally something of a betrayal of the film's dark promise. The ending is tepid and limp, and though there are short, closing bursts of poisonous energy, the closing portion of the picture succumbs to tired predictability lacking the inherently tragic reckoning that must be the bitter resolution to such a tale of blisteringly perfidious emotions and motivations. The empirical summation of the film's traditional noir vestiges cannot be discounted, though the destination of Kill Me Again proves less a consummation of the twisted path on which Jack is doomed to travel. Some of Dahl's interests in noir—continued in Red Rock West (1992) and The Last Seduction (1994)—may be dismissed by some as merely superficial, not having resolutely followed the implications of the stories he tells. That criticism notwithstanding, Dahl's Kill Me Again is largely an overlooked gem with roundly probed psychological subtexts. Dahl's late '80s color creation stands as a film molded by a palpable love for the old dark movies, those shot in crisply stark black-and-white, which still relentlessly haunt.