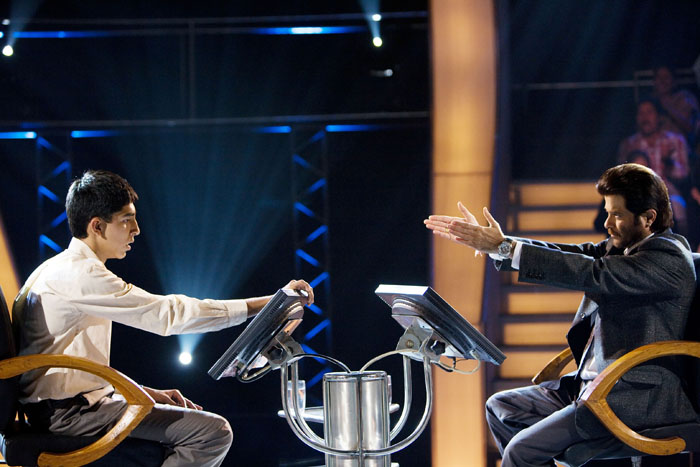 Slumdog Millionaire is nothing less than the most persuasive and potent renunciation of the supposed necessity of "realism" in movies that one could find in theatres today. An overwhelmingly celebrated picture, it is bombastic, visually spectacular and beautifully acted. Yet it is, despite its itinerant peregrination through just some of the worst slums of India, fundamentally a fairytale, an ode to poetry over prose, an ebulliently vibrant underdog (indeed, "Slumdog") story that is so compulsively engrossing, one wishes a collection of five average movies contained its raw power. When critics decry cinematic manipulation, one wonders just what, exactly, they are complaining about. Cinema is an inherently manipulative art form, a sensorial undertaking above all else, a roundabout submission to the subconscious, which, with its endless torrent of streaming perceptions, is the longest running motion picture of the mind. Art as entertainment, as populist escapism, as simply sustenance, cannot be taken for granted anymore.

With that in mind, one leaves Slumdog Millionaire exhilarated, and unabashedly moved, but also hopeful. Director Danny Boyle has made a film with a narrative device of sublime efficacy, taking what has become the trendy non-linear narrative—today nearing the point of exhaustion from so many ill-advised usages—and revitalizing it. One hopes Boyle is able to leave a mark in other, even greater ways with this film. Realism is dandy and often important but dreams are soulfully comestible, and when given the unmistakable urgency of great filmmaking, singularly rewarding. That criticism of manipulation stems from the proverbial parts showing, an incompetent magician giving away the game of legerdemain so crucial to keep the buoyant illusion afloat. Boyle's command is so surefooted and unremitting, however, that one becomes willingly held hostage to it, relishing every moment of the experience.

Slumdog Millionaire follows the life of a poor Indian youth named Jamal Malik, whose inexplicable ability to answer an impressive string of questions on the Indian version of Who Wants to be a Millionaire? (asked by the host, played by a terrifically smug and megalomaniacal Anil Kapoor) supplies the foundation for Boyle's glittery creation. How he knows the respective answers to the questions serves as Boyle's device to illustrate respective times and adventures in Jamal's life, beginning when he was a young child. What quickly becomes apparent is that Jamal has learned things through living, not necessarily learning—but of course living is learning, as the film posits. Dev Patel plays the "older" Jamal, answering the questions on the game show with great, hypnotic charisma. As the film opens, however, Patel's Jamal is being interrogated by a brutal but intelligent police inspector (Irfan Khan, who played a very similar role as a Pakistani Captain in last year's A Mighty Heart, stealing the show in each film, though here just one more great performance in an offering of many). Surely this "slumdog," as he is disdainfully referred to by the inspector, is cheating.

Boyle makes his film defiantly difficult to categorize, bringing to the fore genres as diverse as mystery, thriller, drama, noir, comedy, romance, even action and finally musical—all under the umbrella of "biopic," perhaps—with this divine trip into the story of Jamal. Hovering over the sprawl of Jamal's story is the game show, which provides for ample suspense and interest, though Boyle's focal point is correctly on the origins, triumphs and tragedies of Jamal that cumulatively led him to his moment of televized glory. There is a narrative surprise in the final reel as well, when the more linear narrative timeline of Jamal's endurance of awful torture and sleep-depriving interrogation, is given new meaning, and implications. Rarely has the non-linear stylistic been employed with such conviction and reason, and so remarkably well, as it does in this instance, blending thematic concerns with sheer exquisiteness.

Boyle's thematic interests remain, stronger—simultaneously subtler and more assertive. Jamal and his brother, Salim, at one point find themselves conscripted by Fagin-esque criminals who use children to accumulate money. Jamal and Salim's mother is violently taken from them. Jamal and Salim finally find themselves on a train, that refuge so poignantly yearned for in Trainspotting and Millions. Soon thereafter they go about making money by posing as tourist guides for wealthy Western visitors—displaying an entrepreneurial initiative not unlike that of others in Boyle pictures, most recently the two motherless brothers in Millions. And again there is an enormous pile of money to be had, the sum of which is too vast and great for the protagonist to fully comprehend. These flourishing interests are fascinating to behold in the context Boyle has placed them here, deriving as they do fanciful desires and possibilities against the stifling impenetrability of the despairing reality. Here, Jamal and Salim are children of extreme poverty, and for a little while the film, nestling in the balmy jungle, closely resembles some films by Satyajit Ray, perhaps most poetically Pather Panchali and the entire Apu Trilogy, which found the rivalries and spiritual confrontations of siblings to be at the heart of their intimate dramas.

Meanwhile, in one heartbreakingly simple vignette, Jamal allows a little girl, withstanding a ceaseless sheet of rain falling from the sky, to join he and his brother in a securely roofed haven. What the screenplay initiates and the director follows through with is a love story as pure and uncomplicated as some of the more touching of silent cinema. Jamal and this girl, Latika, are simply destined to be with one another, a point Jamal reinforces with the kind of sweet but steadily applied determinism with which the film is so happily blessed. Boyle creates something ineffably wise by adopting such an incomplex and truthful love story. This is the love affair George Lucas should have easily fashioned between Anakin Skywalker and Padme with his Star Wars prequels—yet it was the pedantic Lucas who made his work of complete fantasy stilted and robotic in its didacticism. Boyle gets it right.

Here, as Boyle lets his camera fly through the jungle, through the sprawl, through the feces, jungle and sunbaked mud, through towns and across roads, he attains what Alfred Hitchcock described when speaking of his masterpiece Psycho, "the kind of picture where the camera takes over." The kinetically charged cinematography by Anthony Dod Mantle is bedazzling, bridging the gulf between viewer and celluloid with an almost hazily hallucinatory hypnotism that is simply refulgent. Mantle's aiding Boyle in adapting Simon Beaufoy's magnificent screenplay is quintessential in forming the aesthetic tapestry of the picture. And it is that cinematographic brilliance that deliriously portrays the environs and localities that give the film such richly distinctive settings, whether they be a game show set, a gangster's palatial abode or the destitute slums teeming with people. In one scintillating sequence, the two very young brothers, Jamal and Salim, run from the authorities of their neighborhood, speedily scampering through the maze-like vicinity. Boyle's camera bounces as it follows, but then resorts to a bird's eye overhead shot. A second and a half later, the shot widens, going further back; and then it retracts again, capturing the entire slum area with profoundly widespread significance. This, Boyle gently but convincingly instructs, is a national tale, one embedded in the very fiber of the nation of India.

That national story is the one that finally animates Slumdog Millionaire, ensuring that the story of the Republic of India is told. The heightened sociocultural role the nation enjoys in the post-Non-Aligned Movement foreign policy it followed during the Cold War is examined with great curiosity and wonderment by Boyle. His joyful interpretation, which nevertheless allows for corruption, repression, endemic economic hopelessness, gangsterism, kidnapping, forced prostitution and a brotherly relationship that occasionally recalls Cain and Abel, recalls nothing less unpretentious than Rocky, with its Philly neighborhood boxer being offered the shot of a lifetime. Indeed, in the climactic sequence, as people all over India watch their television sets, fixated on a moment of awe-inspiring and unifying astonishment, Jamal's great love runs and runs. And like all great genuinely crowd-pleasing pictures, Slumdog Millionaire wins the audience over, lets the enchantment linger and makes the viewer believe in it, despite all reason.